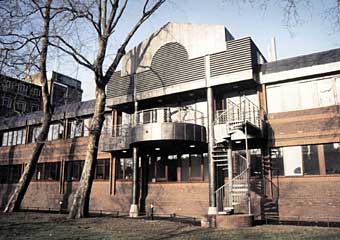 Woolfson Laboratories : St Bartholomews Hospital
This new building provides research, clinical and teaching facilities for the Institute of Preventive Medicine and the Medical Research Council.
The Institute faces the green space at the centre of the hospital campus, and is framed by mature plane trees. The building is clad in a mixture of brickwork and lead bonded steel panels. Facilities include laboratories, clinical examination rooms, seminar rooms, a library and office accommodation. During the design phase, cfp developed a thorough understanding of the diversity and interaction of the various functions, and the building layout allows the user activities to be performed efficiently and effectively.