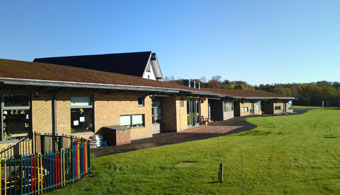 Tatsfield Primary School : Tatsfield, Surrey
Following on from the success of their Southfield Park school, cfp were commissioned to design another entirely new primary school in Tatsfield.
The school was built on a sensitive site within green belt land, and cfp's design moulds the building and play areas to the existing landscape by working with the contours of the sloping site. Much thought was given to the internal layout of the building, which was subject to detailed consultation with the school staff, governors and parents.
The sectional arrangement, elevational treatment and 'green' roof reflect cfp's commitment to an environmentally conscious design approach, and renewable energy sources were a fundamental part of the scheme.