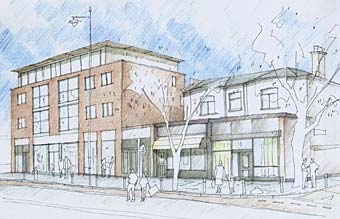 Stoke Newington Road : North London
cfp designed this development of nine flats and a retail unit in Stoke Newington, North London. The design follows a sensitive approach to nearby residential accommodation, using progressive set-backs and angled windows to reduce overshadowing and eradicate overlooking.
The project was subject to detailed consultations and negotiations with the local authority, passing through several different manifestations to achieve the best fit between local requirements and those of the developer.