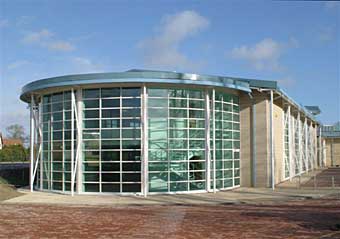 New Logic House Offices : Livingston
A 1500m2 office building at Kirkton Campus, Livingston for Black Arrow Group plc, London.
This two storey building was let to BSkyB as their Headquarters. The design features energy saving cooling and electrical installations. The new building links to an adjacent building which was designed by cfp in 1992 and then redesigned as "Logic House" - and fitted out for BSkyB as their administration complex. Includes enhanced M&E services and new staff kitchen/restaurant facilities.
The whole office complex occupied by BSkyB is 3000m2 with on site car parking.