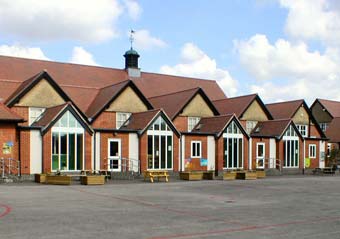 Epsom Primary School : Epsom, Surrey
This £0.9m project for a popular primary school in Epsom involved the careful extension and refurbishment of classrooms, staff accommodation, wc's and circulation space.
The project was carried out in two phases, starting with internal re-ordering and refurbishment of existing admin areas, and moving on to the classroom extensions. An innovative plan for the new extensions involved adding to the classroom areas to bring them up to current standards, and at the same time incorporating dedicated corridor to avoid the disruptive use of the main hall for circulation between classrooms. Natural ventilation and natural light had to be preserved for the classrooms, leading to a carefully considered and balanced design for the extensions.