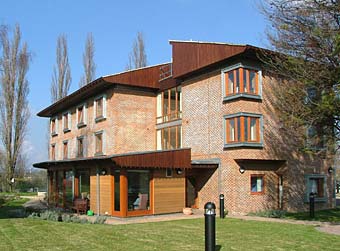 Elysian House Care Home : Colindale
cfp were commissioned by the Barnet Enfield & Haringey NHS Trust to design this residence for 12 adults with long term psychiatric difficulties.
Set in landscaped grounds, the building plan makes the most of the site, with the communal rooms and the majority of bed sitting rooms facing south. The lounges, dining room and conservatory on the ground floor are housed in a curved projecting feature, clad in timber and zinc, with large south facing openable glazed panels.