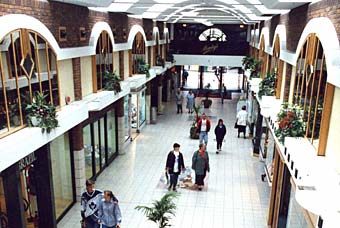 Shopping Centre : Belfast
The Donegal Arcade was designed by cfp as a high quality shopping environment, inspired by traditional arcades.
The design uses architectural elements such as arches and continuous band courses to achieve a strong visual identity, whilst allowing the individual expression of each shopfront. The two storey space has a partly glazed roof to give excellent natural light, complemented by decorative and functional artificial lighting. The external façade to Castle Place is of a civic scale, using brickwork and stone to reflect the surrounding architecture.